---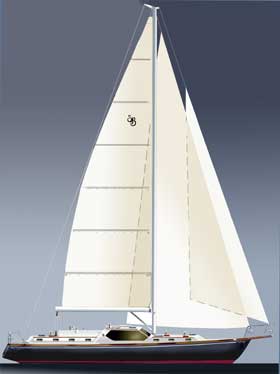 On March 31, 2009, we started lofting Shannon's latest model, the new and innovative
Shannon 53 HPS.
Walt has been listening to your dissatisfaction with the state of the marine industry and has unveiled a hybrid sailboat design that addresses the conundrum of "speed under power versus speed under sail, combined with the comfort of an interior helm". The Shannon 53 HPS is the answer to all the life-long sailors who still want to keep sailing while enjoying speed and comfort and who don't want to be forced into a trawler.
The Shannon 53HPS video which includes sailing, sail handling, a tour inside and outside by Walt Schulz is now available!
If you would like more information, or the DVD about the new Shannon 53HPS, contact Bill Ramos and let him know.
A pictorial record from start to completion of the Shannon 53 HPS
(click this link)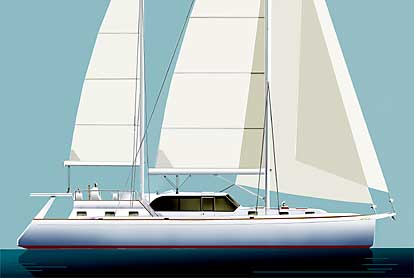 ---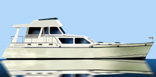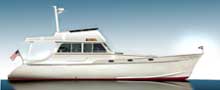 ---
We are proud to announce the completion of our 35th Annapolis Sailboat Show! Walt Schulz, Bill Ramos, Tom Quinlan and Erin Schulz exhibited Shannon 53 HPS #3 just a few docks away from the exact spot where Walt debuted the first Shannon 38 back in 1975. We are thrilled by the positive response to our motorsailer which was evidenced by endless visitors and a nonstop boarding line on our float. We'd like to extend a heartfelt thank you to all the Friends of Shannon out there. If you missed the chance to visit us in Annapolis we hope to see you at our Second Annual Shannon Private Show which begins on 10/23 (see RSVP link above).
INTRODUCING THE SHANNON 40 SRD, 48SRD AND 58 SRD MOTOR YACHTS
The Shannon 40 SRD, 48 SRD and 58 SRD (Schulz Reverse Deadrise) utilize Schulz' breakthrough patented hull design to achieve high performance (cruising speeds of 18 knots), outstanding fuel economy, seaworthiness and comfort under power and at anchor. All Shannon yachts are virtually custom construction, as are the new SRD motor yachts.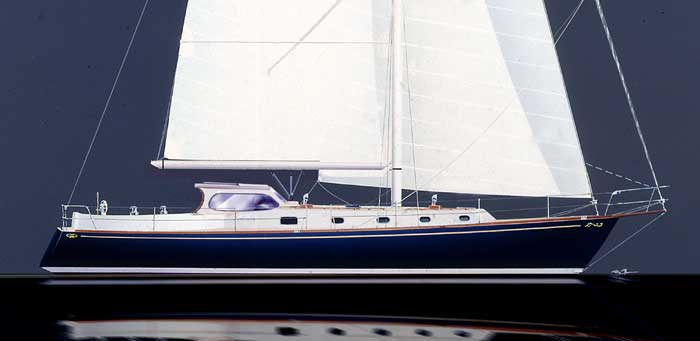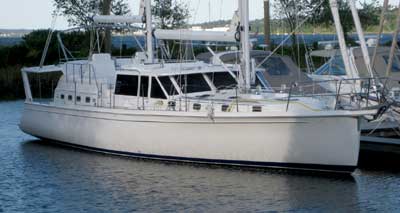 PRESENTING THE 35th ANNIVERSARY SHANNON
In celebration of Shannon's 35th anniversary we are pleased to announce the latest design from Walt Schulz's drawing board – the Shannon 46 and 52 C-series. Walt looked to the past to create an improved Shannon for the future – a cuddy cabin 46 and 52. Download the brochure in PDF
.
---
JUST LAUNCHED
THE NEW SHANNON RDP (RAISED DECK PILOT)
Aside from its beauty, the new Shannon 52 RDP design by Walt Schulz combines innovative comfort and proven seaworthiness.The comfort is provided by a new raised deck pilot concept incorporating an interior steering helm station.The seaworthiness is achieved by using the ocean tested Shannon 47/52 hull and blue water center cockpit design. MORE...
---
---
Shannon owner Kenny Lubin and his Shannon 39 "Mary Adele" stop off in NYC on their way back from the Bahamas. Kenny has spent the last two seasons sailing the Eastern seaboard. He'll be spending the summer in New England so look for him on the Vineyard or Nantucket.
(below)Kenny is photographed with Erin Schulz aboard "Mary Adele" in Manhattan harbor.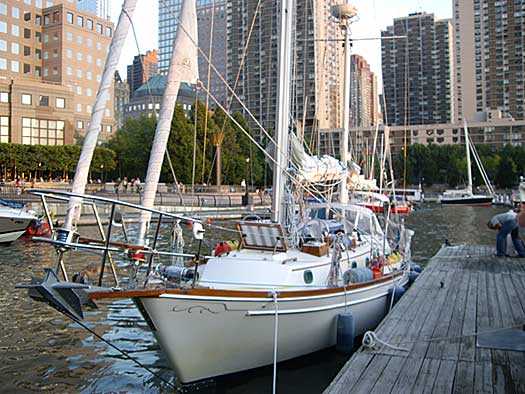 SHANNON 39 "Mary Adele" arrives in New York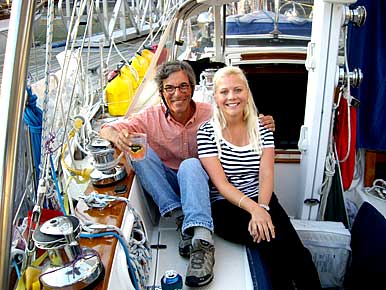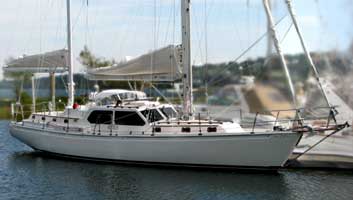 The New Shannon 53 HPS
---
SHANNON SPOTTERS

While sailing on Martha's Vinyard Sound this summer, friends of Shannon, Mort Fortgang and Ken Babits spotted Shannon 53HPS on her way to Maine and sent us this photograph.
Life is so good on a Shannon!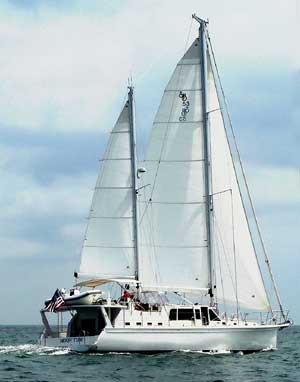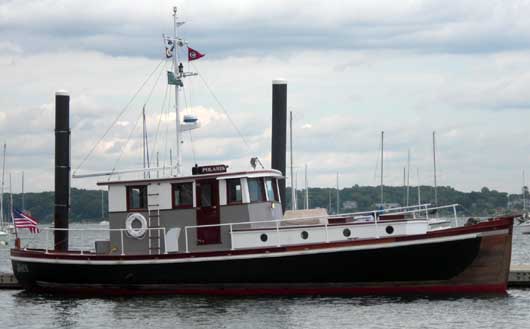 MYSTIC ANTIQUE AND CLASSIC BOAT RENDEZVOUS 2010

On the classic restoration front, Walt was awarded "Best Conversion to Original Design Intent" at the 2010 Mystic Seaport Antique and Classic Boat Rendezvous for "Polaris", his 47' Pacific Pilot. "Polaris" was built in 1937 by Star Shipyards of British Columbia and used as a pilot boat on the notorious Columbia River, and later as a workboat in Alaska. Polaris is offered for sale at $175,000. Call 401-253-2441 for the full restoration details and photographs.
www.pacific-pilot-polaris.com
`
Shannon Fractional Ownership
We have initiated a Fractional Ownership Program for select Shannon models. The program calls for a small number of individuals to jointly own a Shannon, with an experienced yacht management company knowledgeable in international logistics to operate the boat in conjunction with Shannon. The boat will be moved with the seasons to select locations worldwide by a professional captain with crew, with the owners having the option to go on these offshore passages. On arrival each owner (with the option of bareboat or crewed) will have a set number of weeks to use the boat. The management company will handle all the scheduling, and Shannon will be involved with all maintenance and service. At the end of ownership period, the boat will be sold, and with the historically high resale values of Shannons, the fractional owners should get all their original costs back. The three new Shannon models – the Shannon 52 Global, Shannon 53 HPS, and Shannon 52 RDP – are especially well suited for this program, as are any of the other Shannon models. If you have interest in this fractional ownership program, please contact Bill Ramos cell 401 639 9075 or email bill@shannonyachts.com.

---