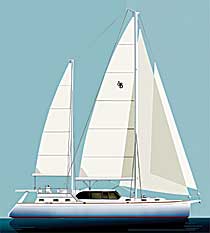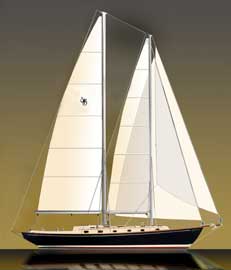 SHANNON'S LATEST SAILBOAT MODELS
The Shannon 46 Schooner and Cuddy Cabin
Combining the best elements of sail design from the 19th and the 20th century, schooner rigs show exceptional speed off the wind and are probably the easiest rig of all to handle – there is an old New England adage that you all you need to sail a schooner is an old man and a boy. To offset any trade-off in performance close-hauled going to weather, Walt has added the Shannon exclusive "Scutter" double headsail arrangement, which provides maximum efficiency and flexibility over a wide range of wind conditions.
The classic lines and proven hull design of the traditional Shannon 43/46 combined with the new schooner rig bear a remarkable similarity to some of the best designs of the great John Alden. The Shannon Schooner 46 might just be the most beautiful Shannon afloat.
And now, in celebration of Shannon's 35th Anniversary, we are pleased to announce the latest design from Walt Schulz's drawing board--the Shannon 46 and 52 C-Series
(cuddy cabin). Customized interiors and 4 different rigs Download the brochre in PDF
The Shannon 52 RDP (Raised Deck Pilot)
Aside from its beauty, the new Shannon 52 RDP design by Walt Schulz combines innovative comfort and proven seaworthiness.
The comfort is provided by a new raised deck pilot concept incorporating an interior steering helm station.The seaworthiness
is achieved by using the ocean tested Shannon 47/52 hull and blue water center cockpit design.
The interior of the 52 will be totally custom to order, but the preliminary plans provide for a three sleeping cabin/two head arrangement. more....