Shannon 53 HPS:
A Career Design Revelation
by Walt Schulz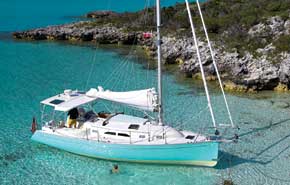 I have the Shoalsailer 35 - a breakthrough sailboat hull that was co-designed with George Cater who was looking for the perfect small boat for the Florida Keys, one that could sail to windward in 30 inches of water without any centerboard or daggerboards
I also designed the SRD 38 foot powerboat which has amazed everyone because it travels at over 20 knots with half the horsepower and considerably less fuel consumption than a conventionally shaped powerboat. Both designs have proven themselves in all wind and sea conditions including a couple of memorable ocean storms. While I knew what I wanted I felt that this hybrid design in a liveaboard passagemaker of about 53 feet could be too radical for consumer acceptance.
Staying conventional, I designed a new sailboat, the Shannon 50 LDC (Long Distance Cruiser); and a new powerboat, the 48 SRD. The 50 foot sailboat uses the existing 47/52 hull combined with a new pilothouse deck. The powerboat is primarily a Shannon Voyager 45 hull extended 3 feet with the new SRD technology used for the bottom. Similar to every other Shannon model that has come into existence, we put the designs into the Shannon Scroll newsletter and up on the Website for feedback.


Shannon 53 HPS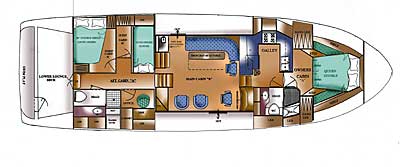 Shannon 53 HPS Deck Plan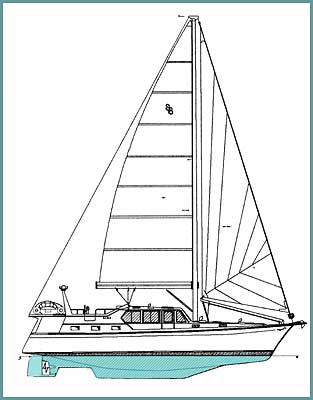 The 53 Hybrid Power Sailer:
Will sail to windward at 35 degrees in only 4.5 feet of water (no centerboard) at 9 knots
Cruise under power at 12 to 15 knots with a Luger 185 hp engine while
Burning only 7 gallons per hour
Has a range of over 2500 miles under power alone
Similar to all Shannons since 1975, the interior layouts for the Shannon 53 HPS will be totally custom and only limited by the hull space and our (yours and mine) imaginations. Yes, there is twin engine redundancy available and room for ever bell and whistle imaginable. This career design revelation is much more that what I have just said, but I'll leave the rest of it to the marketing people.
___W.S.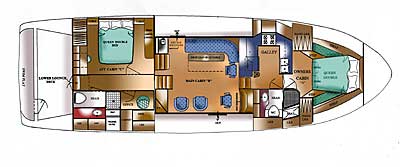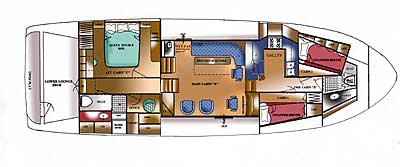 Much to my complete amazement, much of the resulting comments I received regarding these two new designs have been that I should combine the features of both into a single design! I should note here that the majority of folks that I spoke to were either sailboat people not getting any younger or disgruntled trawler owners. I am not exactly sure what prompted this unexpected response, but I have reason to believe that the marketing publicity surrounding the new Nordhaven 56 motorsailer and the Island Packet 38 motorsailer has influenced the conversations. Maybe it is just the El Nino phenomena, but I was surprised to hear that so many people were looking for the same type of boat as me.
For over 25 years I have been enamored with motorsailers. William Hand is probably my favorite yacht designer, and I am currently restoring "Promise" a wooden 46 footer he designed in 1930. I have drawn several different size motorsailers that I knew Shannon would never build because the designs all had the same limitations. A conventional 53 foot motorsailer only powers at 9 knots and only sails at 6 knots in a stiff breeze while not being able to sail closer than 45 degrees into the wind- not a good powerboat and certainly a poor sailboat. I have designed and built the "pilothouse" Shannon 38 and 43 that sail like real sailboats, but they also unfortunately power just like a sailboat. While these Pilots offer out of the weather steering, their conventional sailboat hull shape precludes the voluminous interior space of a trawler. It's tough to get a spacious interior layout when the wheelhouse takes up valuable space and the hull pinches into a narrow sailboat transom.


I believe the success of the trawler designs such as Grand Banks or Nordhavns is based on providing more luxurious interiors than those available on the biggest sailboats, even though these trawlers are traveling at just a knot or two faster than a comparably sized sailboat. I think the rational is if you have to go slow, at least you have a lot of interior space and nice seats where you can look out the windows on a rainy day. Also, there are no winches or sails to work on a trawler. The rugged "shippy" look sets them apart from the Euro-jogging shoe appearance of normal SeaRay-type powerboats. The fact that trawlers roll uncomfortably without some form of complex gyro-fin stabilizers or back-breaking manual paravanes has amazingly not slowed the success of the trawler market until now. The total reliance on a single diesel engine that must never break down is tough for someone like me who has been working on broken diesel engines for 40 years. The little "get home" wing engine that runs off the generator with a tiny pinwheel propeller that will push a heavy trawler in calm water at only 3 knots does not provide any comfort for me either. I guess that explains why Shannon never got on the trawler bandwagon.


So now we have a Chinese trawler company and an American sailboat company both promoting and building motorsailers. Very interesting, except these boats are back to the slow powerboat and poor sailboat conundrum. I don't understand both designs putting the outside helm right behind the mast up near the bow and exposed to spray, sun and occasional big waves in the face. However, I am sure the marketing people will turn this negative feature into some fantastic new helm concept. While I certainly believe that a motorsailer is a far better and safer design for long, offshore passages than a single screw trawler, if the boat is too heavy and there is not enough sail area then it is back to an always running engine in order to get home. I think this is another marketing genius bandwagon that Shannon will pass on.


Obviously, I believe my latest design revelation is an infinitely better offshore concept than a motorsailer. And it took a push from a bunch of nice people to confirm for me that the time is now right for a new hybrid boat design. By morphing the proven shallow draft sailing characteristics of the Shoalsailer with the also proven Shannon SRD powering characteristics of a seakindly motion and fuel efficiency, I have a new 53 foot hull design that will sail to windward at 35 degrees in only 4.5 feet of water (no centerboard) at 9 knots, and cruise under power at 12 to 15 knots with a Luger 185 HP engine burning just 7 gallons per hour. The Shannon 53 HPS (Hybrid Power Sailer) has a range of over 2500 miles under power alone. With a roller furling boom and a club-footed self-tending jib on roller furling all the winch/sail handling work is kept to a minimum and can be done from the interior helm with push-button ease. The hull/deck profile and the center of gravity (check this out on conventional motorsailers/trawlers if you are brave enough) are kept low for seaworthiness. All the pilothouse glass is armorplate and has Lexan storm shutters for safety. Of course, the Shoalsailer/SRD hybrid hull shape combined with the counterbalancing effect of the mast and sails prevents the rolling motion found in trawlers. The outside helm is aft (where it belongs) under a sun bimini and placed for good visibility both forward and aft for no-stress docking by an average husband and wife team. Towards this end, it is possible to go from the bow to the stern on the outside decks without going through the interior for quick line handling when docking. There is a weather protected aft cockpit that has drop curtains and screens with room for two or more wicker chairs. This is one of the nicest sitting areas on any boat, as I discovered on a 1929 Elco flattop that I restored a few years ago.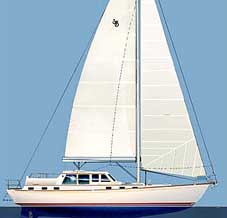 Shannon 53 HPS Interior Layout Design "B"
If you would like to view our 5 minute video on the 53hps, click here
Or,if you would like more information, and/or a copy of the Shannon 53 HPS DVD, contact Bill Ramos at bill@shannonyachts
401-253-2441 FAX 401-254-1202
Shannon 53 HPS Interior Layout Design "C"
Shannon 53 HPS Interior Layout Design "A"
As I look back on my almost four decades in the marine industry, including all the years since 1975 as the founder, president, and chief designer here at Shannon Yachts, whatever success I have enjoyed can be attributed to one personality characteristic - my dissatisfaction with the status quo. I have always wanted hull laminates to be stronger, boats to sail in shallower water, sails to be easier to handle, engines to burn less fuel, etc. For my entire career I have never accepted "conventional wisdom" on why a boat could not be designed and built better. And I have always felt that my most successful designs were boats that I would like to own. Even though I am approaching the age when I can qualify for Social Security (if there is any money left thanks to the fools in Washington) I still want to make the run from Martinique to the Canaries, and then to sit at anchor up close to shore on my own boat off Portofino Italy. Our bodies are not what they used to be, so a pure sailboat on a long offshore passage is too much work for my wife and me (no paid crew on any boat of mine). Power boats have the speed but suffer range limitations, a bad motion in a seaway without complicated and unreliable stabilizers, and the unnerving possibility that the engine will decide not to start at the worst possible moment. Therefore, with the goal of designing my ultimate retirement boat in mind, last summer I started working on an idea to morph my two US patented hull design "inventions" together to create a totally new kind of vessel.